Free Self-Care Tool with Access to Drug Discounts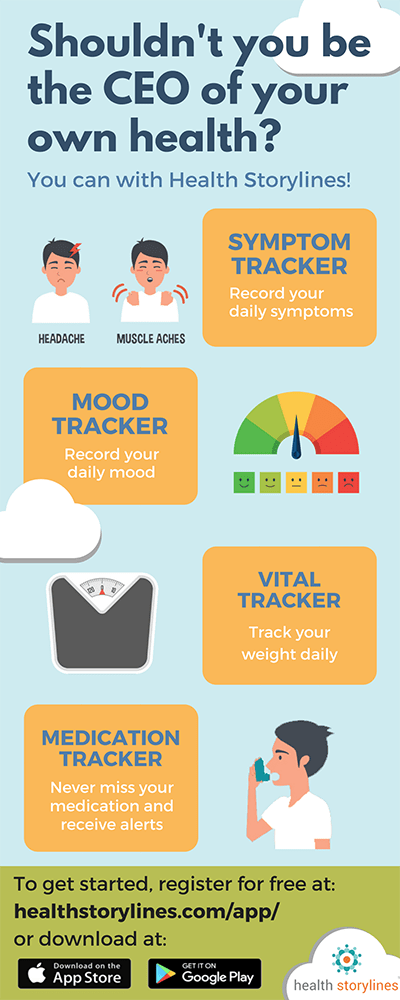 Health Storylines is a free self-care app that makes it easy for you to track and manage your health conditions. It also allows you to access the NeedyMeds drug discount card and other information resources on assistance programs, right at your fingertips.
A drug discount card that is with you at all times
The NeedyMeds drug discount card is conveniently pre-loaded in the app, accessible from your mobile device at any time. You can use the in-app drug discount card immediately at participating pharmacies to save up to 80% off the price of your prescription medications.
Customizable self-care tools to meet your health needs
Medication reminder
Symptom tracker
Daily mood tracker and journal
Vitals tracker (e.g. weight, blood pressure, etc.)
Pain rating scale
Ability to sync with wearable devices (e.g. Fitbit)
And more…
As you track and monitor your health with the app, your inputs are summarized on a feature called My Storylines. This helps you learn more about your health, and to share more accurately with your care team about what happened between visits.
Help researchers improve patient-centered care
By using the NeedyMeds Storylines app, you have the opportunity to anonymously contribute learning from your story to a vital data resource which helps researchers improve care in the future for people like you.
The NeedyMeds Storylines app was designed in partnership with NeedyMeds and is powered by the Health Storylines™ platform from Self Care Catalysts Inc.
Need help getting started with the NeedyMeds Storylines app? Contact the toll-free app helpline at 1.844.475.4637 or email support@healthstorylines.com.