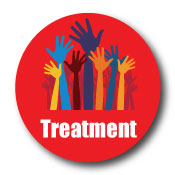 According to the National Institute on Drug Abuse, addiction to any drug (prescribed or illegal) is a brain disease that can be effectively treated.
Here you will find a range of resources from leading advocacy groups/nonprofit organizations and federal agencies that offer information on prescription drug abuse prevention information.

​
American Association of Addiction Medicine (ASAM)
ASAM policy statement outlines helpful information about the disease of addiction.
Tips for finding a specialist to treat addiction:
Offers a step-by-step guide to connect you to an addiction specialist through the American Association of Addiction Medicine.
Center for Addiction and Substance Abuse at Columbia University (CASAColumbia)
Downloadable guide offers step-by-step information for finding addiction treatment.
Food and Drug Administration
FDA's blog from FDA's senior leadership and staff about the work done at the FDA addressing the approval of a drug that can reverse opioid overdose.
Indian Health Service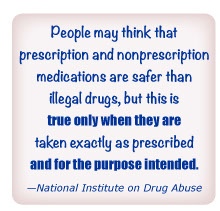 Browse essential training on pain and addiction for providers.
Narcotics Anonymous (NA) World Services
An introduction to the NA fellowship and its guiding philosophy to help individuals stop using drugs and recover by focusing on the disease of addiction and not on any particular drug.
Offers recovery literature and resources for individuals and communities interested in starting NA meetings.
NA's book explaining the support group's three-part message for addiction treatment and recovery is available in hard copy or as an e-book.
Nar-Anon Family Groups
Students Against Destructive Decisions (SADD)
​Web site offers resources for peer-to-peer education, prevention, and activism for teens and parents, including contracts for life, communication tips, and sample public service announcements.
The 12 Steps for Freedom from Addictive Behaviors
Web site offers materials and guidance about the 12-Step Program for treating addictive and dysfunctional behaviors.
National Institute on Drug Abuse
Web site offers a variety of resources about prescription drug abuse, including treating addiction to prescription opioids.
Brochure available from web site or by mail offers guidance for seeking drug abuse treatment and lists five questions to ask when searching for a treatment program.
Online guide explains research-based principles of addiction treatment for a variety of drugs, including nicotine, alcohol, and illicit and prescription drugs, that can inform drug treatment programs and services.
Nemours Foundation Teen Health
Q&A with health expert provides guidance; also available in audio format.
Partnership for Drug-Free Kids
This e-book is an A-Z resource for parents looking for information about adolescent and young adult alcohol and other drug abuse treatment and how to get the most appropriate care for their children and families.
Prescribe to Prevent
Web site for health care professionals interested in learning about naloxone and how to prescribe and dispense it. FAQs, patient education, community resources, and research information about naloxone also are available from the web site.
Substance Abuse and Mental Health Services Administration
Comprehensive online guide to treatment facilities in the U.S. or U.S. territories for substance abuse/addiction and/or mental health problems.
On-line resource designed to assist states, medical and addiction treatment communities, potential patients, and/or their families in finding information on locating physicians and treatment programs authorized to treat opioid addiction with buprenorphine.
Guide to treatment programs in your state that treat addiction and dependence on opioids, such as heroin or prescription pain relievers.
Booklet offers easy-to-read details about opioid addiction and medication-assisted treatment.
Treatment Referral National Helpline
1-800-662-HELP (4357)
TTY: 1-800-487-4889
Free and confidential information in English and Spanish for individuals and family members facing substance abuse and mental health issues. Provides referrals to local treatment facilities, support groups, and community-based organizations.
This resource identifies treatment center options by state locations.
______________
See the Directory to find out more about the organizations and web sites committed to educating the public about prescription drug abuse.