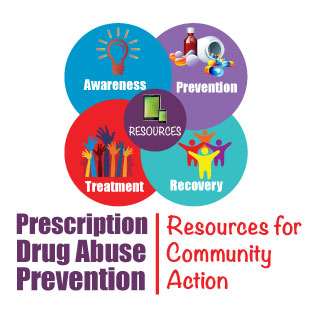 Here, you will find the advocacy groups/nonprofit organizations and federal agencies listed in the Awareness, Prevention, Treatment, and Recovery sections of this guide, and links to more prescription drug abuse prevention resources.

Advocacy Groups/Nonprofit Organizations
12 Steps for Freedom from Addictive Behaviors
Twelve-step programs are well known for their use in treating addictive and dysfunctional behaviors. The first 12 step program began with Alcoholics Anonymous (A.A.) in the 1930s and has since grown to be the most widely used approach in dealing not only with recovery from alcoholism, but also from drug abuse and various other addictive and dysfunctional behaviors. 12Step.org offers resources about the program's philosophy, meetings, and materials to support recovery.
A New PATH: Parents for Addiction Treatment and Healing
Parents, concerned citizens, individuals in recovery, healthcare professionals, and community leaders working together built A New PATH to educate the public, media, and decision makers about the disease of addiction and to expand access to treatment services. The organization's goal is to end discriminatory drug policies and reduce the stigma associated with addictive illness. Moms United to End the War on Drugs is A New PATH program.
Acetaminophen Awareness Coalition, KnowYourDose.org
The coalition's goal is to educate consumers about medicines containing acetaminophen, how to use them appropriately, and to help change behaviors that could lead to an unintentional acetaminophen overdose. Leading health, health care provider, and consumer organizations comprise the coalition. The American Academy of Pediatrics, Centers for Disease Control and Prevention, and the U.S. Food and Drug Administration serve as coalition advisors.
American Association of Addiction Medicine
This association of 3,000 physicians nationwide is dedicated to improving the treatment of alcoholism and other addictions, educating physicians and medical students, promoting research and prevention, and enlightening and informing the medical community and the public about these issues.
American College of Preventive Medicine
This medical society represents more than 2,700 members employed in research, academia, government, clinical settings, and other arenas worldwide dedicated to prevention. A web site resource is available that explains prescription medicine use and abuse and provides an overview of addiction and questions to ask your physician.
The American Medical Association (AMA) represents the nation's physicians and promotes the art and science of medicine and the betterment of public health. Since 2005, the AMA, along with many other stakeholders in the health care community, has supported and helped secure passage of the National All Schedules Prescription Electronic Reporting Act as an essential tool in combating prescription drug abuse and diversion. The AMA continues to work to combat diversion and drug misuse, including the opioid epidemic while preserving access to medically necessary treatment for pain.
American Medicine Chest Challenge
This nationwide, community-based, public health initiative in partnership with law enforcement, was designed to raise awareness about prescription drug abuse dangers. The initiative created a nationwide disposal day for unused, unwanted, and expired medicine; web site offers videos, checklists, and toolkits.
American Pharmacists Association
American Academy of Student Pharmacists
The American Pharmacists Association (APhA) is the largest association of pharmacists in the United States, with more than 62,000 practicing pharmacists, pharmaceutical scientists, student pharmacists, and pharmacy technicians as members. The APhA Academy of Student Pharmacists (APhA-ASP) aims to be the collective voice of student pharmacists, to provide opportunities for professional growth, to improve patient care, and to envision and advance the future of pharmacy. APhA offers resources from its web site to its members to help raise awareness about preventing prescription drug abuse in their communities.
Association of Recovery Schools
This association is dedicated to schools that provide educational settings for students in recovery. A contact list for member recovery high schools is available from its web site.
Families and friends of people with substance use disorder/chemical dependency and who have experienced the devastating results of the disease of addiction and overdose deaths formed this organization. Its ᅠweb site offers resources about addiction, recovery, fighting the stigma of addiction, and advocacy for families and friends of people with substance use disorders.
Center for Addiction and Substance Abuse
The Center for Addiction and Substance Abuse, Columbia University (CASAColumbia), is a science-based organization focused on developing effective solutions to address the disease of addiction and substance use. CASAColumbia is committed to understanding the science of addiction and its implications for health care, public policy, and public education. CASAColumbia offers multiple resources on drug abuse awareness, prevention, treatment, and recovery.
Community Anti-Drug Coalitions of America
Community Anti-Drug Coalitions of America (CADCA) is the premier membership organization representing those working to make their communities safe, healthy, and drug-free. CADCA is a partner in the RxSafetyMatters program and offers a range of resources on drug abuse prevention.
The Drug Free Action Alliance delivers up-to-date information and develops initiatives that serve the immediate needs of those working to prevent substance abuse throughout the State of Ohio and beyond. Community programs are models for others looking for sustainable interventions.
Founded in 2001 as a focus for a growing advocacy force among people in long-term recovery from addiction to alcohol and other drugs, their families, friends, and allies. With more than 25,000 members, the organization's current priorities include growing a network of recovery community organizations and developing an accreditation system for organizations providing peer recovery support services. The web site offers dynamic and creative recovery resources.
Generation Rx—Preventing the Misuse and Abuse of Prescription Medicines
Developed at Ohio State University College of Pharmacy, with funding from the Cardinal Health Foundation, this web site provides medication safety and prescription drug abuse prevention resources for schools, colleges, and communities. Partnerships are encouraged to enhance medication safety and prescription drug abuse prevention.
Narcotics Anonymous (NA) is a nonprofit, international organization created to help people of all ages, races, religious perspectives, occupations, and lifestyles stop using drugs. NA approaches the 12-step recovery program by focusing on the disease of addiction itself, and not a particular drug.
The Nar-Anon Family Groups are a worldwide fellowship for those affected by someone else's addiction. As a 12-Step Program, it offers help by sharing experience, strength, and hope. The only requirement for membership is that a relative or friend has an addiction problem. Nar-Anon is the branch of Narcotics Anonymous, but functions as separate organization.
National Association of Boards of Pharmacy
This independent and impartial association assists member boards in developing, implementing, and enforcing standards for protection of public health. NABP provides resources to its members about identifying prescription abuse and related topics through its AwaRxE, Red Flags, and web-based pharmacy safety programs.
The National Council on Aging (NCOA) is the nation's leading nonprofit service and advocacy organization representing older adults and the community organizations that serve them. NCOA offers a range of health-related information for older adults, including medication safety and prescription drug abuse-related resources.
National Council on Alcoholism and Drug Dependence, Inc.
Offers information and recovery resources for parents, youth, people in recovery, and for families, and friends.
National Council on Patient Information and Education (now known as BeMedWise Program at NeedyMeds)
One of the original patient safety coalitions, National Council on Patient Information and Education (NCPIE) has advanced the safe and appropriate use of medicines through enhanced communication among stakeholders and the public since 1982. NCPIE works to address critical medicine safe-use issues including adherence improvement, prescription drug abuse prevention, treatment and recovery, medication error reduction, quality improvements in healthcare provider-patient medicine communication, safe medicine storage and disposal, and develops resources and health education campaigns on these and related topics.
National Education Association Health Information Network
The NEA Health Information Network (HIN) is a nonprofit health and safety organization closely aligned with the National Education Association (NEA). HIN advances information, programs, services, and policies that improve the health and safety of NEA members and the students they serve. HIN serves as the "go to" place for the NEA about health and safety issues. With the support of an educational grant from Purdue Pharma L.P., the NEA HIN offers curriculum-based resources to help educate young people about the misuse, abuse, and proper use of prescription drugs:ᅠRx for Understanding: Be Smart About Prescription Drugs (tailored for grade 5 to 8), and Rx for Understanding: Preventing Prescription Drug Abuse (tailored for grades 9-12).
The National Safety Council is a nonprofit organization whose mission is to save lives by preventing injuries and deaths at work, in homes and communities, and on the road through leadership, research, education, and advocacy.
Nemours Center for Children's Health Media—KidsHealth.org
The Nemours Center is dedicated to improving the health and spirit of children. The Nemours Center for Children's
Health Media is a national leader in health education through KidsHealth.org and other online, print, and video programs. These resources, including Q&As about prescription drug abuse, provide knowledge, perspective, advice, and comfort to families with questions about children's health. Nemours supports a number of renowned children's health facilities nationwide and supports clinical research that transforms scientific advances into practical ways to improve children's health care. The Nemours Health and Prevention Services and other advocacy and prevention programs develop innovative ways to work with communities to help kids grow up healthy.
Partnership for Drug-Free Kids
Formerly known as the Partnership for a Drug-Free America, this organization is dedicated toᅠreducingᅠteen substance abuse and helping families affected by addiction. The Partnership for Drug-Free Kids translates the science of teen drug use and addiction for families, providing parents with direct helpline support to prevent and cope with teen drug and alcohol abuse. The Medicine Abuse Project is a Partnership program with multi-media offerings about prescription drug abuse prevention, painkiller addiction, and over-the-counter medicine abuse and related information for Parents & Grandparents; Health Care Providers; Educators; and Communities & Law Enforcement.
Prescribe to Prevent—Prescribe Naloxone, Save a Life
This web site is for health care professionals interested in learning about naloxone and how to prescribe and dispense it. FAQs, patient education, community resources, and research information about naloxone are available.
Project Lazarus: Community-based Overdose Prevention and Opioid Safety with Community Care of North Carolina
Project Lazarus is a secular, non-profit organization that provides technical assistance to community groups and clinicians throughout North Carolina and beyond. Using experience, data, and compassion it empowers communities and individuals to prevent drug overdoses and meet the needs of those living with chronic pain.
PROTECT Initiative: Advancing Children's Medication Safety
The PROTECT Initiative is an innovative collaboration bringing together public health agencies, private sector companies, professional organizations, consumer/patient advocates, and academic experts to develop strategies to keep children safe from unintentional medication overdoses.ᅠLinks are provided to multiple resources about medication safe use for children.
Online resource offers links to and information about treatment and recovery, including detox centers, rehabilitation, and aftercare programs.
Students Against Destructive Decisions
Students Against Destructive Decisions (SADD) provides students with tools to confront and deal with underage drinking, other drug use, risky and impaired driving, and other destructive decisions. Communication tips, behavior contracts, and other resources for teens and parents are available from SADD's web site.
The BACCHUS Initiatives is a collegiate peer education program that supports student achievement and academic and personal success by building skills in student leaders to address campus health and safety issues. BACCHUS provides student leaders and professional staff with the tools, skills, and resources to conduct evidence-based programs on campus to improve health and safety.
The organization's national leadership team creates and cultivates local community-led chapters through grassroots organizing and training. Chapters support young people in or seeking recovery by empowering them to obtain stable employment, secure suitable housing, and explore continuing education. Chapters also advocate on the local and state levels for better accessibility ofᅠthese services and other effective recovery resources. Support information in a variety of formats is available online.
Federal Agencies
Administration for Community Living
The Administration for Community Living (ACL) brings together the efforts and achievements of the Administration on Aging, the Administration on Intellectual and Developmental Disabilities, and the Office on Disability to serve as the federal agency responsible for increasing access to community supports, while focusing attention and resources on the unique needs of older Americans and people with disabilities across the lifespan. The web site offers information about prescription drug misuse and abuse in older adults.
Centers for Disease Control and Prevention
The Centers for Disease Control and Prevention (CDC) protects the nation from health threats. To accomplish its mission, CDC conducts critical science and provides health information that protects the nation against expensive and dangerous health threats, and responds when these arise. Resources about prescription drug abuse and prevention are available.
Drug Enforcement Administration
The Drug Enforcement Administration (DEA) in the U.S. Department of Justice enforces the Controlled Substance Act of 1970. The DEA strives to eliminate drug trafficking by limiting the availability of controlled substances, stopping the smuggling of illegal substances, educating the public about the dangers of drug abuse, and arresting and prosecuting offenders. Fact sheets on drug types and prevention resources are available at the DEA web site.
The Food and Drug Administration (FDA) protects the public health by assuring that food supply (exceptᅠfor meatᅠfrom livestock, poultry, and some egg products, which are regulated by the U.S. Department of Agriculture), ᅠare safe, wholesome, sanitary, and properly labeled, ensuring that human and veterinary drugs, and vaccines and other biological products, and medical devices intended for human use, are safe and effective. Testimony about prescription drug abuse prevention and other related issues are available at the FDA's web site.
The Indian Health Service (IHS) is an agency within the Department of Health and Human Service is responsible for providing federal health services to American Indians and Alaska Natives. The Cherokee Indian Hospital Buprenorphine Clinic Program is explained in detail in the February 2013 issue of the HIS Primary Care Provider newsletter.
One of the 27 institutes and centers of the National Institutes of Health, the National Institue on Aging (NIA) leads the nation's research activities dedicated to understanding the nature of aging to support the health and well being of older adults and extend healthy, active years of life for more people. The NIA mission is to discover what may contribute to a healthy old age as well as to understand and address the disease and disability sometimes associated with growing older. NIA offers drug abuse prevention in older adults and related resources.
National Library of Medicine Medline Plus
Produced by the National Library of Medicine, National Institutes of Health (NIH), MedlinePlus presents information about diseases, conditions, and wellness issues. MedlinePlus offers free, reliable, and up-to-date health resources from NIH, including prescription drug abuse resources.
Office of National Drug Control Policy
A component of the Executive Office of the President, the Office of National Drug Control Policy (ONDCP) wasᅠ created by the Anti-Drug Abuse Act of 1988. ONDCP advises the President on drug-control issues, coordinates drug-control activities and related funding across the Federal government, and produces the annual National Drug Control Strategy, which outlines Administration efforts toᅠreduce illicit drug use, manufacturing and trafficking, drug-related crime and violence, and drug-related health consequences.
Pennsylvania Patient Safety Authority
This independent state agency is charged with taking steps to reduce and eliminate medical errors by identifying problems and recommending solutions that promote patient safety in hospitals and other facilities providing medical care or services. Two educational tools are available related to opioid medication safety: one for health care providers, Opioid Knowledge Self-Assessment, and one for health care settings, Organization Assessment of Safe Opioid Practices.
Substance Abuse and Mental Health Services Administration
The Substance Abuse and Mental Health Services Administration (SAMHSA) is the agency within the U.S. Department of Health and Human Services that leads public health efforts to advance the behavioral health of the nation. SAMHSA's mission is to reduce the impact of substance abuse and mental illness on America's communities. SAMSHA provides the Treatment Referral National Helpline, 1-800-662-HELP (4357), TTY: 1-800-487-4889, and the Substance Abuse Treatment Facility Locator. SAMHSA supports National Recovery Month, an annual event to raise awareness about mental and substance abuse disorders. Resources on substance abuse prevention, treatment, and recovery are available from the National Recovery Month web site.