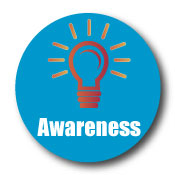 Learn about prescription drug abuse. Awareness is a first step toward prevention and treatment.
Here you will find a range of resources from leading advocacy groups/nonprofit organizations and federal agencies that offer prescription drug abuse awareness information.
American College of Preventive Medicine
American Pharmacists Association (APhA)
APhA-Academy of Student Pharmacists (APhA-ASP)
Community Anti-Drug Coalitions of America (CADCA)
Rx Abuse Prevention Tool Kit: From Awareness to Action
Provides a framework and resources, such as community outreach, the Rx Abuse Fact Book, tutorials, and media outreach for coalitions to use for launching community prescription drug abuse awareness events. Strategies reflect lessons learned from community coalitions that are actively engaged in implementing Rx abuse awareness events.
Center for Addiction and Substance Abuse (CASAColumbia)
Centers for Disease Control and Prevention (CDC)
Drug Enforcement Administration
Drug-Free Action Alliance
Through the Medicine Cabinet—Abuse and Misuse of Prescription Drugs
Resources and tool kits explaining prescription drugs and the consequences of their use.
The Gap Network
A network of family engagement groups affected by prescription drug and opiate addiction who seek to end the addiction crisis in all Ohio communities and beyond. Advocates for policy changes that can alter environmental conditions that encourage drug use and mobilize communities to affect their own change.
Know!
Drug prevention and awareness tips for parents and caregivers, and educators and administrators of middle school students.
Food and Drug Administration (FDA)
Web page for consumers provides links to multiple resources on prescription drugs, misuse, storage, abuse, safe use and more.
The Buzz Takes Your Breath Away…Permanently
Article targeted to teens and young adults explains overdose risks and symptoms.
Generation Rx Initiative—Preventing the Misuse and Abuse of Prescription Medicines
The Generation Rx Initiative was created by the Ohio State University College of Pharmacy and is supported by the Cardinal Health Foundation. Tool kits are organized by groups and include fact sheets, videos, and other educational material on prescription drug abuse awareness, prevention, treatment, and recovery.
Teaching Drug Safety to Children (Elementary)
Patient Tool kit: Respect the Rx (Seniors)
Merck Manual Home Health Handbook
Opioids
Web site section addresses safe use, misuse, and abuse of opioid medicines and provides related resources.
National Association of Boards of Pharmacy (NABP)
AwarRxE
Web site provides resources about medication safety, prescription drug abuse, medication disposal, and safely buying medications on the Internet.
Red Flags
A YouTube video produced by NAPB and the Anti-Diversion Industry Working Group member companies addresses how to identify prescription abuse and diversion. Also available in the pharmacists section of NABP's prescription drug safety web site.
Buying Medicine Online: Internet Pharmacies and You
NABP's review of pharmacy web sites to determine if they maintain safe pharmacy practices.
National Association of School Nurses
Smart Moves, Smart Choices Initiative
Web site developed for parents, teens, and educators about the risks associated with teen prescription drug abuse; offers educational videos and a tool kit for educators on how to present school assemblies about teen drug abuse in their communities.
National Council on Aging · Center for Healthy Aging
National Council on Patient Information and Education (NCPIE)
Not Worth the Risk—Even if it's Legal
NCPIE, in partnership with the Substance Abuse and Mental Health Services Administration (SAMHSA), developed and distributed a comprehensive range of educational and outreach messages encouraging parents to talk to their teens about preventing prescription medicine abuse. With SAMHSA's support NCPIE produced and distributed the messages in English and Spanish to television stations, newspapers, and radio stations across the U.S.
National Educational Association Health Information Network
Rx for Understanding: Be Smart about Prescription Drugs
Program provides educational resources on prescription drug abuse and misuse for middle school students. The lessons aim to equip students with the understanding and decision-making skills they need to recognize and avoid the dangers of misusing and abusing prescription drugs. In partnership with Purdue Pharma L.P.
National Safety Council
National Institute on Aging
National Institute on Drug Abuse
As the leading national scientific source on drug abuse, prevention, and treatment, the National Institute on Drug Abuse (NIDA) makes available a range of resources from fact sheets to reports, videos, and articles. The following links are a place to start. See also NIDA Publications.
For teachers, students, and parents, article address drug effects on brain function
National Library of Medicine (NLM) Medline Plus
Prescription Drug Abuse
MedlinePlus, a service of the (NLM), National Institutes of Health, provides comprehensive resources online about prescription drug abuse and related topics./li>
Nemours Center for Children's Health Media—KidsHealth.org
Partnership for Drug-Free Kids
Student Affairs Administrators in Higher Education
The BACCHUS Initiatives
Peer mentoring training programs focusing on alcohol abuse, tobacco, violence prevention, sexual health, safety, and physical and mental health issues. The BACCHUS Network provides student leaders and professional staff with the tools, skills, and resources to conduct evidence-based programs on campus to improve health and safety.
See the Directory to find out more about the organizations and web sites committed to educating the public about prescription drug abuse.