Published March 15, 2022
At the time of writing this — with an estimated 43% of Americans having had COVID-19 and many more being immune due to COVID vaccinations, including 65% who are fully vaccinated and 44% who have received boosters — the rate of new COVID infections is dropping. As the COVID-19 pandemic continues to ebb, the Centers for Disease Control and Prevention (CDC) has released new relaxed mask recommendations.
While the recommendations for the type and fit of masks to use has not changed, the circumstances where masks are recommended has changed. The new recommendations are more situational.
Location, Location, Location
As they say in real estate, location is the most important aspect of property value, and location is the major change in the new recommendations. There are still situations where masks are required for anyone — such as planes, airports, trains, train stations, and other modes and hubs of public transit — but they are no longer required on school buses and under certain circumstances, such as:
While eating, drinking, taking medication, or communicating for brief periods of time with a person who is hearing impaired when their ability to see your mouth is essential for communication;
If, on an aircraft, wearing oxygen masks is needed because of loss of cabin pressure or other event affecting aircraft ventilation;
If unconscious (for reasons other than sleeping), incapacitated, unable to be awakened, or otherwise unable to remove the mask without assistance;
When necessary to temporarily lower or remove the mask to verify one's identity such as during Transportation Security Administration (TSA) screening or when asked to do so by the ticket or gate agent or any law enforcement official; or
When experiencing difficulty breathing or shortness of breath or feeling winded, until able to resume normal breathing with the mask; when vomiting until vomiting ceases; or if wearing a mask interferes with necessary medical care such as supplemental oxygen administered via an oxygen mask.
For otherwise healthy people, the recommendation to wear a mask in indoor settings — including in K-12 schools and early education settings — depends on the level of COVID infection in the community.
Masks recommendations have been rescinded for those in communities with low- or medium-risk COVID levels as outlined below. The recommendation continues for those living in high-risk communities.
The COVID-19 Community Level is determined by the new admissions and inpatient beds metrics, based on the current level of new cases per 100,000 population in the past 7 days.
To find out the COVID-19 community level:
First determine whether a county, state, or territory has fewer or more than 200 new cases per 100,000 people in the past 7 days.
Then, determine the level (low, medium, or high) of new admissions, inpatient beds, and population indicators using the scale for the area's number for new cases.
The COVID-19 Community Level is based on the number of new admissions and inpatient beds metrics per 100,000 people per week.
Check your county's COVID-19 Community Level on the CDC website.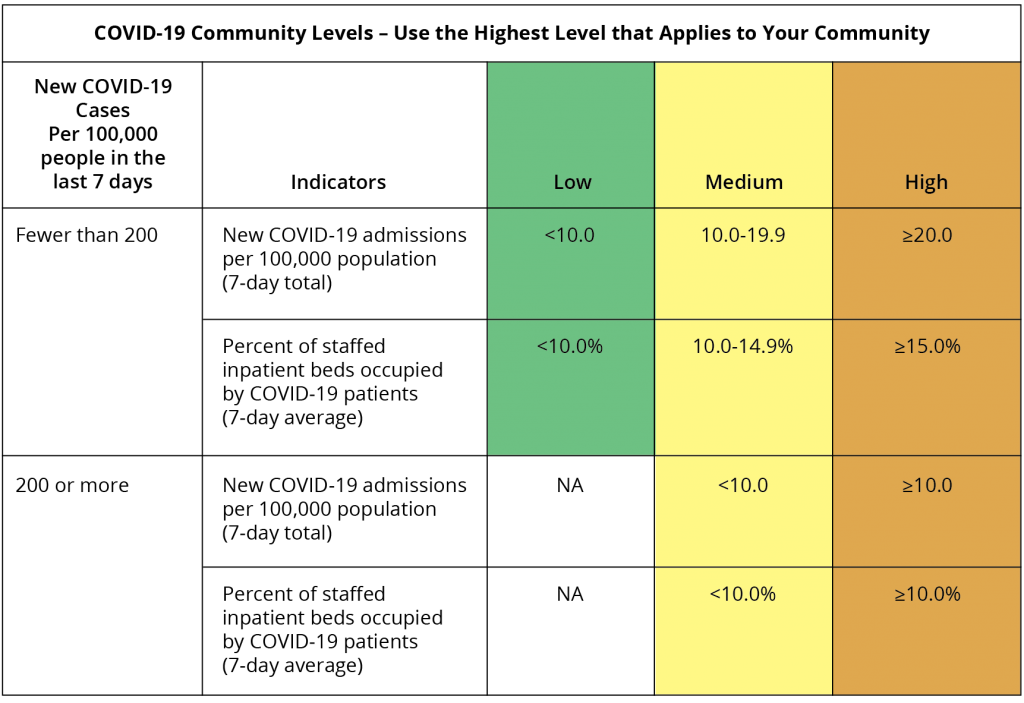 A Few Exceptions
There are a few exceptions to the general recommendation.
Those who are immunocompromised or at high risk for severe disease should consider wearing a mask even if they live in a medium-risk community.
The American Academy of Pediatrics recommends that families consider having their children wear face masks in public indoor settings, including schools, even in low- and medium-risk communities if:

Their child is between ages 2 and 5 and currently ineligible for COVID-19 vaccine;
Their child is immunocompromised and may not have a protective immune response to the COVID-19 vaccine, or is at high risk for severe illness;
Their child is not immunized; or
Other family members are at higher risk of severe disease or are not immunized.

Mask are still not recommended in any situations for:

Children under 2 years old;
A person with a disability who cannot wear a mask or cannot safely wear a mask due to their disability as defined by the Americans with Disabilities Act; or
A person for whom wearing a mask would create a risk to workplace health, safety, or job duty as determined by the relevant workplace safety guidelines or federal regulations.
These are only recommendations, so venues can still set and enforce their own requirements for masks and social distancing. In any situation, people should make their decisions based on their own experience and comfort level and respect the people around them.
The NeedyMeds website has a database of over 100 nationwide resources for those who have been impacted by COVID-19. For those looking for information on receiving a coronavirus vaccine, find your area's locations and appointment availability at vaccines.gov. There may be options for children to get vaccinated even if their parents don't grant permission.