The opioid epidemic is a public health emergency. Last year, Talk About Your Medicines Month was about Taking Action to Prevent Opioid Misuse and Abuse. As the epidemic persists, so must our efforts to combat it. So, this TAYMM, we are expanding the scope to include preventing Opioid abuse across the ages — from toddlers to seniors.
Together, let's take action to address the risks, responsibilities, safe use, storage, and disposal of opioids. Read on to learn about: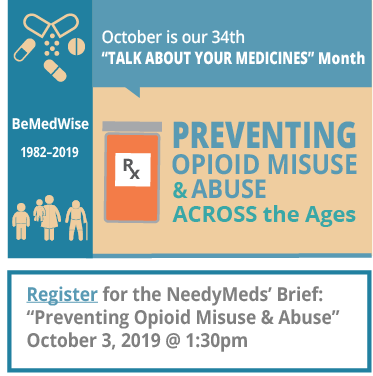 History of TAYMM
The BeMedWise Annual "Talk About Your Medicines Month" (TAYMM) is an opportunity to spotlight healthcare issues impacting communities far and wide. For the past 34 years, TAYMM has chosen topics ranging from Think Before You Drink to Communication is Key to stimulate conversations between patients and their healthcare providers. The goal of TAYMM is simply better health outcomes through education.
"Talk About Your Medicines" Month Archive